Automatic Vertical Autoclave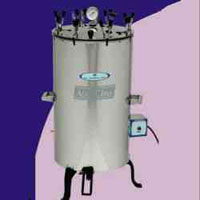 Automatic vertical autoclaves are specially designed for medical clinical bacterogical & research laboratories Pharmaceuticals, Fertilizer Plant, Breweries soft Drink mfg. etc.
Specifications
• Reliable convinient method of steam sterllization.
• Inner Chamber made up of thick S.S
• Outer Chamber made up of M.S / S.S. Immersion type heater should be provided. Lid is made up of S.S and die pressed.
• It is equipped with pressure gauge, steam realese valve and safety valves.
• This instruments supplied with Aluminium / S.S Basket.
• Pressure controls by spring valves.
• It is used for sterllization under working steam pressure upto 15 PSI.
• Fitted with silicon rubber gasket jointless, to work on 230 volts A./C. only.
Optional Accessories
• Foot lifting arrangement.
• Digital Temprature indicator cum Controller.
• Water Level indicator.
• Auto Cut Off. 

| | |
| --- | --- |
| Size available | Capacity in Ltr. |
| 25*45 cm | 22 |
| 30*50 cm | 35 |
| 35*55 cm | 52 |
| 45*60 cm | 95 |
| 55*75 cm | 175 |