B.O.D. Incubator GMP Model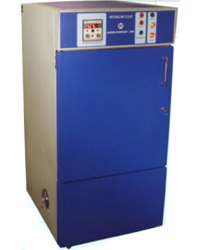 Features
• Designed specially biological Oxygen demand determination and other application like general incubation, serum studies and enzyme assays tests.
• Castor wheel mounted cabinet is double walled.
• Inner chamber made of Aluminium / S.S Outer chamber made of M.S with powder coating.
• Full length inner glass / acrylic door permits inspection of specimens with out disturbing the temperature.
• Temp. controlled by Digital Temp controlled cum indicator.
• Temprature range 5 degree c to 50 degree c with an accuracy of 0.5 degree c.



• This unit is fitted with door operated illumination lamp inside the chamber.
• Equipped with vermitically sealed compressor.
• Air Circulation Fan for maintaining temp. Uniformity through out the chamber.
• Flush Fitting insulated double walled door has magnetic gasket.
• The Chamber is provided with modular removable shelves made of S.S for complete flexibility is use.
• Inner Chamber is fitted with refrigeration evaporator, heater and Air Circulator for creating positive.
• Air flow through out the inner chamber for Temp. Uniformity.
• To work at 230V A.C only.
| | | |
| --- | --- | --- |
| S No | Size | Dimensions |
| 1 | 3 Cu. Ft (90 Ltr) | 45*45*50 Cm |
| 2 | 6 Cu. Ft (170 Ltr) | 50*50*70 Cm |
| 3 | 10 Cu. Ft (280 Ltr) | 55*55*90 Cm |
| 4 | 12 Cu. Ft (320 Ltr) | 60*60*90 Cm |