Rectangular Vacuum Oven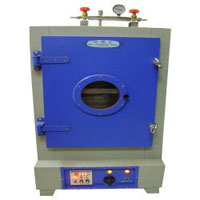 Rectangular Vacuum Ovens are made from heavy gauge material & it Is rectangular in shape with full toughen glass window to view sample.
Technical Specifications
• Round vacuum oven are double walled
• Inside chamber is made of thick stainless steel S.S.304
• Outside chamber made of Mild steel Powder coated
• High grade glass wool insulation between two walls to avoid lost of heat
• Uniform drying under vacuum Temp. Range 50 ˚C to 200 ˚C with accuracy of ± 2 ˚C
• Precise vacuum guage upto 30 H2 analogue
• Temp controlled by digital temp controller cum indicator

• Vacuum chamber is wrapped with set of high quality heater for quick & uniform heating door and has a thick tempered toughen glass window perfectly sealed with silicon rubber gasket for observation without disturbing thermal condition
• Proper door alignment to ensure excellent vacuum performance & operate safety
• Positive screw to tighten the lid to obtain preface seal
• Fitted with vacuum valves & vacuum gauge
• Switches & indicating lamps are provided on front panel
Optional Accessories
• PID Controller with printer option
• Programmable controller with 8 steps

Size available in rectangular vacuum oven as below.

| | | | |
| --- | --- | --- | --- |
| Size in inches | Cap in LTR | No.For Shelves | Rating K.W. |
| 8"x8"x12" | 12 LTR | 2 | 1600 |
| 12"12"x16" | 37 LTR | 2 | 1750 |
| 14"x14"x20" | 63 LTR | 3 | 2000 |
| 18"x18"x24" | 125 LTR | 3 | 2250 |
| 20"x20"x30" | 190 LTR | 4 | 2500 |