Vertical Autoclave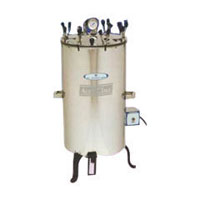 We offer a range of autoclave, which are used for sterilizing the steam. Fabricated using qualitative stainless steel and others, our autoclave is known for its durability and superior performance. Available in the following sizes and capacities, we can also provide tailor autoclave as per requirements.
25 x 45 cm

22

30 x 50 cm

35

35 x 55 cm

52

45 x 60 cm

95

55 x 75 cm

175

Features of autoclave
• Convenient and reliable method of steam sterilization.
• Inner chamber fabricated with thick S.S.
• Outer Chamber manufactured with M.S/S.S.
• Provided with immersion type heater.
• Lid constructed using S.S. and dies pressed.
• Equipped with pressure gauge, steam release valve and safety valves.
• Pressure controlled using spring valves.
• Supplied with aluminum/S.S. basket.
• Equipped with joint less silicon rubber gasket.
• Working steam pressure upto15 PSI.
• Operated on 230 Volts A.C. only.

Optional accessories
• Auto cut off.
• Digital temperature indicator cum Controller.
• Foot lifting arrangement.
• Water level indicator.