High Temperature Laboratory Oven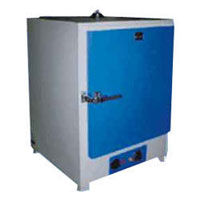 Specifications
• Hot Air Ovens are sturdy double walled units.
• Inner chamber made of S.S. and outer made of Mild steel with Powder coating.
• Gap between the walls fitted with glass wool insulation to avoid heat loses.
• Heating elements are made of high grade chrome plated microme wire.

• Temp. is controlled by thermostat.

• Temp. range 50 degree c to to 250 degree c and Accuracy : +-2 degree c.
• Air ventilations are placed on top of both sides to remove hot gases / fumes.
• In Lab type oven heaters placed in the bottom side of unit.
• All the control switches & pilot lamps are fitted on the front panel.
• Trays should be supplied with G.I wire mesh.
Optional Accessories :
• Air Circulation Fan for Uniform Temperature.
• Digital Temp. controller cum indicator in lieu of thermostat.
• S.S Trays.
• Out side chamber made of stainless steel.
No.

Size in inches

H x W x D (in cms)
1

12" X12" X12"

(30 x30 x30 Cm.)
2

14" X14" X14"

(35 x35 x 35 Cm.)
3

18" X18" X18"

(45 x 45 x45 Cm.)
4
18" X18" X24"

(45 x 45 x60 Cm.)
5
24" X24" X24"

(60 x 60 x60 Cm.)
6
18" X24" X36"

(45 x 60 x90 Cm.)
7
24" X24" X36"

(60 x 60 x90 Cm.)