BOD Incubators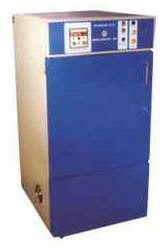 Our extensive range of B.O.D. Incubators has been designed especially for biological Oxygen demand determination & other applications like general incubators, Serum studies & Enzyme assays test. We can also customize the B.O.D. Incubators to suit the varied requirement of the clients with in stipulated time frame.

Technical Specifications
• Double walled cabinet mounted on castor wheels
• Inner chamber made of S.S.304 & Outer chamber made of M. S. Powder coated
• Full Length inner acrylic door permit inspection of specimens with out disturbing the Temp.


• Temp. Controlled by solid State Digital controllers housing all the control with PT-100 sensor illumination light are provided for viewing with door limit switch.
• CFC Free hermetically sealed compressor provide temp. For below ambient condition.
• Air circulation fan for maintain Temp. Uniformity through out the chamber.
• Flush fitting insulated double walled door
• The Chamber is provided with modular removable shelves made of S. S. For complete flexibility in use
• To work on 230 volts 50 H2.

Validation Protocols : IQ OQ & PQ Documentation with calibration & Tradability certificate of controller.
Safety Features : Built in Temp Deviation Audio visual alarm, Safety thermostat for overshoot Temp. Cut off system. HRC Fuses for compressor heater & mains Time daily circuit for safety of compressor.
Special Care : A suitable K V. A. Servo stabilizer is strongly recommended.

This B.O.D.incubator Is available in below sizes
Size in CU.FT
Inner dimension
W X D X H in cms
Capacity In LTR
No. of Shelves
3
45 x 45 x 50 Cm.
90
2
6
50 x 50 x 70 Cm.
175
2
10
55 x 55 x 90 Cm
285
3
12
60 x 60 x 90 Cm
340
3
16
70 x 70 x 95 Cm
450
4