Tray Dryer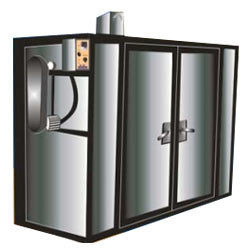 Applications : Tray Dryers are ideally suitable for drying chilies, spices, papads, potato chips, onions, fish, garlic, grapes, cashew nuts, confectionery, macaroni, wood etc. It is also for used for drying pharmaceuticals, chemicals, powders, granules, plastic granules etc. Heating is either by electric or steam or both combined. Various models are listed in this leaflet to suit customer requirements. Custom-built models can be quoted on request.
Construction : The external frame work is made of thick gauge M. S plates both the exterior made of thick gauge CRCA sheets or AISI 304 sheets. in between the space, resin bonded special quality fiber glass heat insulation slabs are provided. safety guards for fan blade & heaters are provided. The interiors is painted with heat resistant aluminum paint. The exterior is spray painted with silver gray gloss paint, Inner Chamber - CRCA or AISI 304, Outer Chamber - CRCA or AISI 304.

Fan & Motor : According to models doors are provided with smooth moving hinges, latch catch & sealing gaskets. Well balanced large propeller type fan (S) fitted inside the chamber with suitable shaft & dual bearing with Electric motor (S) drive.
Heaters : 'U' type tubular heaters are provided inside the chamber for maximum heat transfer. Steam heated models are fitted with finned type steam radiators.
Controls Panel : Control Panel box consists of contactor assembly, On & Off switch, Digital Controller neon lamps, operating push buttons are incorporated in the control Box.
Damper : Adjustable exhaust Damper with an arrangement for pre-filtration, in the air inlet.
Optional : GMP models / complete S.S unit. Trolleys & Trays supplied as per requirement. Microprocessor based temp. Control with printer interface (Centronic PC interface with RS 232 CPC / RS-485 for networking of controllers. Profile controller for Ramp / Soak cyclic applications.
Safety Features : Built-in temp. deviation audio visual alarm. Safety thermostat for over shoot temp. cut off circuit to cut off the whole systems in case of malfunction. (only applicable to Microprocessor based models).
Validation : IQ OQ PQ & DQ Protocols with complete documentation & certification traceable to National & international Standards.
Steam Heated Models : These are provided with finned tubular steam coils instead of /in addition to heaters, along with solenoid valve.